Capture, Store & Transmit Every Beat With The TZ Medical Cardiac Event Monitor
The Trident™ line of wearable cardiac event monitors is designed from the ground up to simplify and streamline the hookup process.
Connect the device to USB, enter patient and study information into the BitRhythm web portal, and then attach the device to the patient. It's that simple. When the device is returned, simply reconnect to USB to backup stored data and restore the device to default settings for future enrollments.
Rx Only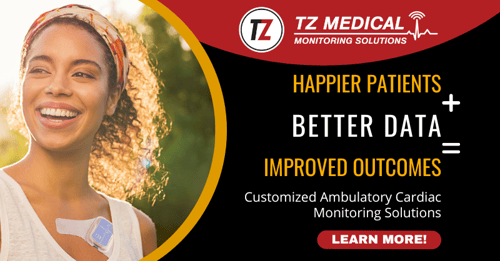 Learn More About How Trident Can Simplify Your Workflow.
It has been such a seamless and easy transition from our previous holter monitor company to TZ Medical. Between the knowledgeable and excellent customer service team, who are always willing to go above and beyond, to the sleek, updated, user-friendly devices, I can't recommend them enough!
We have been working with TZ Medical since May 2019, using their Holter monitors, and it has been the best decision to switch to them. Not only is their staff, especially Sarah, delightful to work with, they are quick to respond with any questions we have and they check in with us to make sure we are doing good. Their online system has been very easy to use and it has made our in office process much simpler for our staff and our patients.